On the morning of the 20th World Intellectual Property Day, on the morning of April 23, Huatian Electronics Group held discussions with Tianshui City Intermediate People's Court and Qinzhou District People's Court on the development and management of intellectual property rights.
The chief lawyer of Huatian Group, Xie Bingxuan, gave a detailed introduction to the intellectual property management of the group's trademarks, patents, copyrights, proprietary technologies, etc., and conducted a discussion with the judge on the new problems encountered in the company's development and how to strengthen the protection of intellectual property rights. Explore communication.
The leaders of Tianshui Intermediate People's Court highly affirmed Huatian Group's awareness of intellectual property protection and management, and said that as a judicial adjudication agency, Huatian Group is developing rapidly in accordance with the concept of fairness, justice and justice for the people. Intellectual property rights management, rights protection, etc. will provide strong support and protection, jointly create a legal environment that encourages knowledge innovation, and work together to accelerate the construction of a strong IP country.
Also attending the meeting were Guo Yanbing, Vice Minister of IT Department of Huatian Technology, and Zheng Jiangxin, Minister of Technology Department of 749 Company.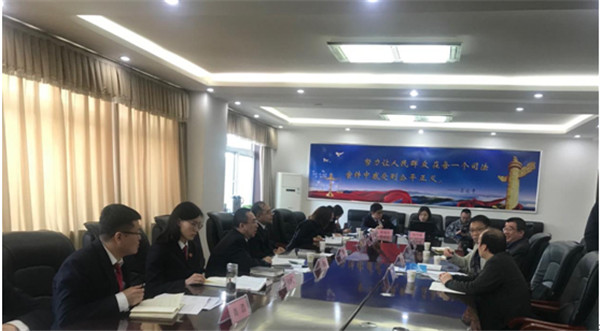 (Audit Office Li Na)